Ann Arbor voters pass $1 billion bond for public schools
 On Tuesday Nov. 5, More than 24,000 people voted in the Ann Arbor Public Schools (AAPS) district. The biggest vote was towards a $1 billion dollar bond to help schools in the Ann Arbor district. The outcome was 53.3 percent voting for and 46.7 percent voting against the bond. 
AAPS superintendent, Jeanice Swift, has been working with community volunteers, teachers, parents, and students intending to help pass the bond since 2018. 
"In all of our Ann Arbor public schools we all benefit from generations of investment by our community that has long valued education," Swift said. 
The bond was the second largest in Michigan state history. The largest was Proposal S, which was agreed upon in 1994 when a $1.5 billion dollar bond was voted on for Detroit Public Schools. 
Most of the funds for this bond are coming from an approved tax increase for a sinking fund millage which was voted on in May 2017. The fund was created to protect critical General Fund dollars that must be preserved for programs, and other essential district operating costs. The starting amount for the fund was $200 million but would grow $20 million each year from 2017 until 2026. The sinking fund allowed AAPS to spend more than $60 million on roofing, paving, and new playgrounds. Currently $205 million remain in the 2017 sinking fund millage and it is due to be renewed in 2027, adding $331 million. 
Some school buildings do not provide ideal learning conditions with inadequate lighting, mechanical noise, and lack of air circulation. EMG conducted a survey of all buildings during the 2017-2018 school year. According to the Facility Condition Index in 10-years without the new bond and with the current sinking fund that most buildings would fall into critical condition. They found that $823 million dollars would be needed over the next twenty years to produce adequate building conditions. Approximately 1,250 students are expected to enroll in AAPS schools in the next five years. 
There are 32 school buildings in the AAPS school system, which are on average 63 years old. The total for all buildings, technology, furniture, instruments and new buses would cost more than $1.4 billion.
Projects are being planned and should be complete within the next six years. Two new school buildings will be built in anticipation for slow renovations on current school buildings. The Ann Arbor Public Schools are raising taxes so the bond can be functional. The community supports the construction and repair of the schools, so that students may receive a high level of education in an adequate learning environment. 
"People will be looking back at this moment and saying that it was a defining moment in Ann Arbor, when we were able to bring our physical properties up to a standard that we've not had in most of our properties for a very long time," Swift said.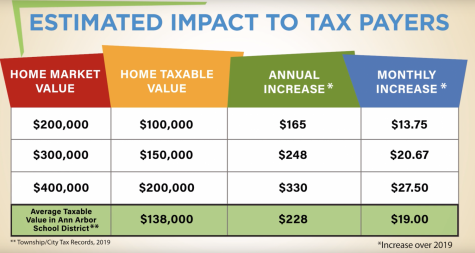 Leave a Comment
About the Contributor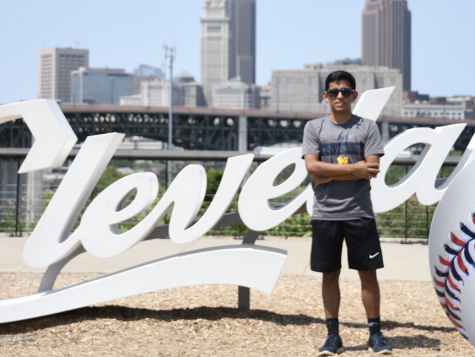 Josh Boland, Journalist
Josh Boland is a senior and in his second year on the Communicator staff. Josh has a great interest in photography which he devotes lots of time to doing. He also enjoys playing soccer, watching sports with friends, and traveling. Josh is hoping to attend a college with great student media opportunities and good athletic programs which he can photograph.