Art through quarantine: Ryan Thomas-Palmer's piece on Greta Thunberg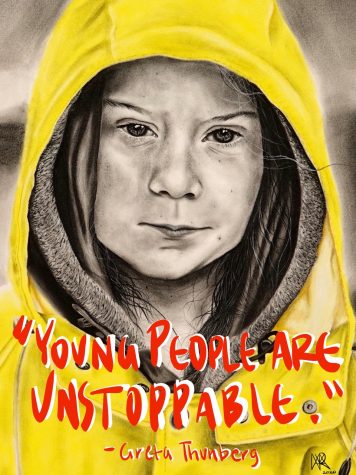 In recent years, art has provided Ryan Thomas-Palmer with relief from the stress and anxiety she battles. With COVID-19 cases in the United States growing exponentially, a lack of sufficient testing for possible coronavirus victims, and Michigan Public schools and programs remaining online for the remainder of the academic year, Thomas-Palmer has been looking to her art more than ever.
"I can just sit at my desk doing art for hours a day and it's not like I'm just sitting on my phone to pass the time; I'm passing the time while I'm doing something productive," Thomas-Palmer said. "I'm using up the time in quarantine while I'm doing something that I love."
For years, Thomas-Palmer has had a passion for art: she often spends hours a day sketching, she has participated in many art fairs and competitions, and she even enlisted the help of her parents in the December of 2018 to build an art studio in her room — which she invested a lot of her own money in.
One aspect of art Thomas-Palmer loves is that she can see her progress. After about a week has passed since she has finished a certain project, she can look back and see what she could have done differently to improve her work. This serves as a reminder to her that she is always growing and becoming a better artist.
As well as doing art in her spare time, Thomas-Palmer hopes to pursue a career in art. Her ultimate goal is to be able to not just do commission work — where she creates specific pieces with exact instructions in exchange for money — but to be able to appeal to customers with art she wants to create. However, Thomas-Palmer is nervous about whether or not she will make it as an artist.
"I'm kind of scared of what my career will be because I want to become an artist, and art is really hard to make a living off of because there are a lot of really good artists out there," Thomas-Palmer said. "It's hard to make your things be seen."
One of the things that concerns Thomas-Palmer about pursuing a career in art is her inclination to sell her work for less than it is worth. When she sells her work, she will frequently bicker with her family and friends about the price to put on specific pieces; her parents are especially adamant about advertising her art at a higher price than what she thinks she can earn.
As well as selling it, Thomas-Palmer will enter her art in competitions — like she did with her drawing of Greta Thunberg; that piece is in an online competition called "Global Open Call for Art: Mental Health and Publ!c Safety." The open call hopes to foster a sense of community and well-being during these unusual times, stating: "[Art] can be a compass to guide us through this storm."
To vote for Thomas-Palmer's artwork, click here and register to create an account. Then, scroll down to find her piece on Greta Thunberg, and click on the heart icon, which will turn red.