Women in Jazz – Ana Morgan
Ana Morgan has one video of the performances she used to put on as a kid: holding her plastic Barbie guitar, she sat both of her parents down in the living room and accompanied her neighbor in their own version of an "Alvin and the Chipmunks" song, her parents laughing in the background. Morgan's parents wanted her to do anything other than theater; her mother had spent her 20s as an actress. But after Morgan tried out a myriad of different sports and extracurricular activities, it became clear that music was her passion.
"I was singing and dancing whenever I could," Morgan said.
Morgan went on to perform in CHS' Community Ensemble Theater (CET). In CET's rendition of "School of Rock," she worked with Jack Wagner, the CHS jazz teacher, and spoke to him about joining the jazz program. Following a drive to learn more about music theory, Morgan joined a jazz band with friends in the program, and enrolled in jazz as a vocalist.
As she comes from a background in musical theater, jazz was somewhat of a shock to Morgan, given that it is a male-dominated field. To compete in Battle of the Bands in January of 2020, she joined a seven-person group in which she was the only woman.
Morgan was scared at first. A friend and fellow musician, Noah Greenburg, had invited her to join the group. When he called her to discuss the competition, he broke the news that she would be learning jazz.
"Jazz?!" she exclaimed. "I've never done jazz before."
"It's okay," Greenburg said. "It'll be easy for you to learn and catch on."
Still, in the first few rehearsals, Morgan felt like the dumbest person in the room; all of the musicians she was working with had been playing jazz since their freshman year — some longer. It took some learning and adjustment, but Morgan eventually felt confident in her skills as a jazz vocalist. 
Until the night of the competition.
It didn't feel real to her. She'd spent this time learning an entirely new genre of music and practicing with her band, then suddenly she was standing in the Neutral Zone, preparing to perform.
"I remember getting to the Neutral Zone and I just wanted to cower and hide because I just saw all these people that I'd seen coming in and out of Jack's room," Morgan said. "I was like 'Oh my god, everyone here has been doing this so much longer than I have.'"
It didn't help that Morgan estimated there were five women, including her, out of all nine bands competing. She was trying not to show how nervous she was when Zoe Buhalis — a CHS student helping to organize Battle of the Bands — approached her and asked for help in the back room.
"Are you okay?" Buhalis asked.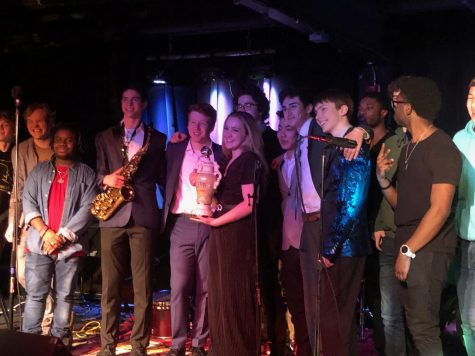 One of the few women there, Buhalis was able to reassure Morgan and help her gain back some of the confidence she had lost in her anxiousness over the competition. As Morgan made her way onto the stage, she heard Buhalis say "Don't let them overpower you."
When Morgan and her band, The Major 7, advanced to the second round, she was shell-shocked. She stood on the stage and stared off to space, thinking "What's going on? How did this happen?"
But her confidence grew. She began to believe in herself and her band; she began to believe they could win Battle of the Bands. And before she knew it, they did.
The day after the competition, Morgan was contemplating her victory when a thought began to nag her: "You only made it to that final round because you were the only girl in that band," she thought. "You only made it through because you were one of the few girls. It's not your talent; it's just because you're a woman.'" 
But Morgan remembered back through her experience: her initial fear of jazz, followed by a budding confidence in her talent; her nervousness the night of the competition; Buhalis' inspiring words. And Morgan shut down that nagging thought.
"I was like 'Wait a minute, no," Morgan said. "You worked really hard for a lot of time. It was not just because you were a girl; you were super talented and you deserve that.' It was validating that I had put in the work and I had put in the time and it wasn't just because of my appearance, or my gender."
Leave a Comment
About the Contributor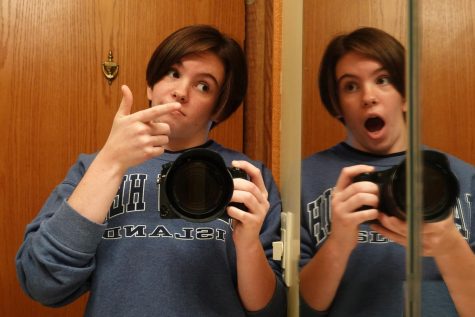 Geneve Thomas-Palmer, Web Editor-in-Chief
Geneve is in her fourth year on staff and her third year in leadership. Her favorite part about journalism is the unique way in which it enables her to interact with people, who all view the world with their own, individual perspectives. Journalism was one of the first things she felt passionate about: she felt a drive to experience and learn, to shift her own view of the world.
When she's not working on the Communicator, she can be found practicing jazz, preparing for a Mock Trial competition or helping run feminist club. Some fun facts about Geneve are as follows: she was born with an extra thumb that has since been removed; she loves to sing and dance, even though she is not good at either.