Debbie Marx – The Crystal Vendor
Ever since she can remember, Debbie Marx, a vendor at the Ann Arbor Farmers' Market, has had an affinity for collecting rocks and stones.
"The rocks are my life," Marx said. "I mean, I love them. But it's the connections you make with the people over the stones that are really the true jewels."
After studying geology in college, Marx worked with two highly trained jewelry designers from the Parsons School of Design. While living in Gloucester, MA., she also worked at a metaphysical crystal jewelry shop. It was there that she discovered her love for natural quartz crystals.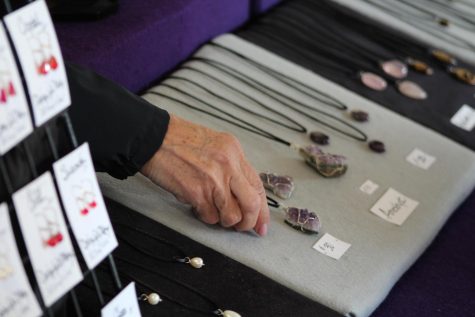 "I wasn't metaphysical at all, I was more scientific," Marx said. "But that's where my love of stones got to be the star. I did all the crystal wrapping and figured out a new way of altering the wire to fit the crystal. It was the first jewelry I had ever done. It kind of became my thing."
Now, Marx sources her stones from rock and gem shows, vintage antique shops or fellow collectors.
"Right now I'm loving the amethyst, because of the source," Marx said. "I'm getting it from a person from Uruguay who is so nice. When you meet people like this at rock shows and gem shows, you make a great connection. The pieces from Uruguay are a little different. There is a deeper grape-jelly purple that is so precious. When I'm bringing my suitcase back from Arizona, I throw out pajamas and tops and stuff rocks in my boots. I take as many as I can fit in my suitcase."
Leave a Comment