Pioneer Men's Tennis: Road to State Title
Captain Isaac Herrenkohl discusses his aspirations of winning a state championship as a senior.
The Pioneer High School Men's varsity tennis team is gunning for their next state championship this fall season. Led by six captains, their impressive team record this season showcases a total of 20 wins, two losses and one tie. As their season is rapidly approaching its end, their biggest upcoming matches are Thursday, Oct. 7 at Regionals, the qualifying rounds for the state tournament and an integral part in determining seeding.
For captain Isaac Herrenkohl, it is all about bringing home the trophy.
"We know we are a capable team with the talent to [win a state championship]; it's just a matter of being able to produce our best tennis consistently," Herrenkohl said.
Their fiercest rival is Bloomfield Hills High School, according to Herrenkohl. The Pioneer's have twice fallen to Bloomfield thus far- with Bloomfield racking up an un- defeated record so far.
"They have very strong singles and doubles lineups, meaning none of our eight flights get an easy match," Herrenkohl said.
After Regionals, the team's focus turns to States, held in Kalamazoo. Herrenkohl is confident that with high intensity and positive energy in every match, regardless of opposition and conditions, they have a chance at the title. He ensures that the team continues to have intentional practices while targeting areas of their games that need improvement.
"Though we know it won't be easy, we are excited about the challenge and look forward to working together to make this a reality in Kalamazoo next week," Herrenkohl said.
Leave a Comment
About the Writer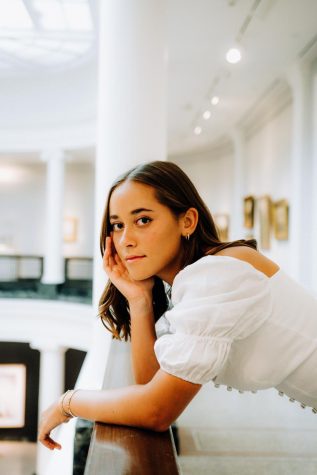 Mia Goldstein, Print Editor-in-Chief
Mia is a senior at Community High and this will be her second year as a Print EIC. Most of her time is spent on InDesign, fooling around with page design or making funky vector art on Illustrator. When she's not in the journalism room, you will either find her on the tennis court 80% of the time or with her black lab, Abby, the other 20% of the time. She's always up for a challenge. Bring it on senior year :)