Skyline Volleyball Falls Just Short of State Title
Skyline High School volleyball was a top runner for the state title; they put in the time on and off the court, but their efforts fell just short on championship day.
For Skyline High School's (SHS) girls varsity volleyball, everything seemed to be going their way: they held the number one state ranking for the majority of the fall season, and their overall record before entering the state championship game was a pristine 55-4-1. Winning the state championship for the first time in SHS history did not seem out of reach. 
Their team of 14 players was undoubtedly the strongest it has ever been in program history, too. They boasted the number one recruit in the country for the '23 graduating class, Harper Murray, as well as multiple other college commits including seniors Lauren Lee and Cari Bohm. The team was a close knit group of girls that had great chemistry, which was evident in the energy that they carried on and off the volleyball court; they carpooled to games and practices, scheduled extra workouts and met up for team bonding dinners.  
"I made some of my best friends on this team," captain Sophie Schrag said. "Playing on a team that is as successful as we were with a bunch of people that you love is one of the absolute best feelings."
With an extremely supportive coaching staff led by Chris Christian, athletic director Bob Wellman, and a loud and proud student section, they seemed to have enthusiasm and skill to secure the state title. Since the first day of practice this year, they have been gearing up for the state tournament. 
"I remember our coach said that each day and each game was a step to Battle Creek, where the final two games are played in the championships," Schrag said. "With all of the tournaments that we participated in we played a wide variety of levels of teams. We had a few bumps in the road with injuries, Covid-19 scares, or just being tired but us pushing through that is why we made it as far as we did."
 So what went wrong? 
On championship day, SHS fell just short of the title in a nail-biting 1-3 game against Marian High School, a school that had been on their radar all season. They ran a fast offense SHS hadn't seen before and played defense unlike any other team they had matched with this season.
"There is a huge difference between knowing we were going to make it that far all season and actually playing in the state finals game," Schrag said. "There were a lot of nerves and volleyball is a game where you cannot be in your head. Every point is due to someone's mistake, and mistakes are inevitable, so dwelling on them can end a game."
Despite the loss, Schrag believes that they left it all out on the court and everyone on the team proved how hard they had worked all season. Murray agrees with Schrag; she thinks they took advantage of every opportunity they had to get better and accomplish things their volleyball program hasn't yet.
Leave a Comment
About the Writer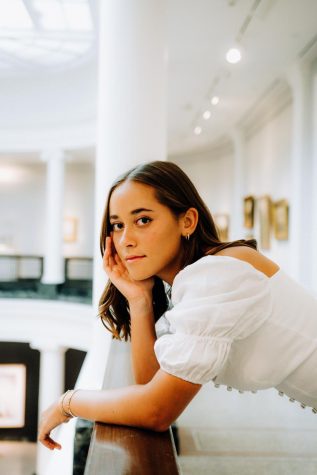 Mia Goldstein, Print Editor-in-Chief
Mia is a senior at Community High and this will be her second year as a Print EIC. Most of her time is spent on InDesign, fooling around with page design or making funky vector art on Illustrator. When she's not in the journalism room, you will either find her on the tennis court 80% of the time or with her black lab, Abby, the other 20% of the time. She's always up for a challenge. Bring it on senior year :)