My Story: North Star Camp
I was eight years old, and walking to my new cabin with kids who would become my friends. We carried our backpacks and sleeping bags, fresh off the bus and with new cabin assignments. I walked away from the masses of people, lugging my stuff with me and taking in the sights of North Star Camp. I had spent the past eight hours on the bus with my 14-year-old cousin and his friends as we drove up from Chicago to Hayward, Wisconsin. They brought me to camp, but now I had to make friends with kids my age.
As I walked down the hill and entered my cabin, I felt relieved. The past eight hours had been full of excitement and anxiety, but now, as I saw the other kids around me, I knew we were all in the same situation.
I picked a top bunk, 'Top bunks are cool,' I thought, and introduced myself to my cabin mates as I unpacked my bursting duffel bags.
The fact that I would be here for four weeks finally set in. Four weeks is a long time. It's long enough to make lifelong memories, and it's long enough to make friendships that keep you coming back. Two of my friends that I made that summer, Ethan and Jack, are still with me to this day.
Ethan is one of my closest friends, but we didn't always get along though. I remember a day during that first year of camp when we were supposed to be cleaning our cabin, but Ethan didn't want to clean. While our counselors were gone, he ran around the cabin outside knocking the broom against the walls while I yelled at him to help me clean. I was determined to stay mad at him for the rest of the day, but it just wasn't worth the energy.
It's much easier to get along with people when you all have to share a room.
One of my first counselors was named Sam and I remember the stories he used to tell us at night. He would pick the plot of a movie or book and tell it like it was the life story of one of the other counselors in our cabin. Of course we all believed him.
It wasn't just his stories that made him special, though. He built a relationship with me that carried through summers as I got older. Now I'm a counselor at the same camp and this summer was my ninth at North Star. Coming to camp this summer didn't feel that different than it did that first year, just now I know that I am entering a community where I know I belong. It's amazing to look back on the counselors that made an impact on me when I first came as a nervous, but excited little eight year old. I realized that I can make an impact on campers in the same way. The friendships that I made my first year are stronger than ever and will last a lifetime.
Leave a Comment
About the Writer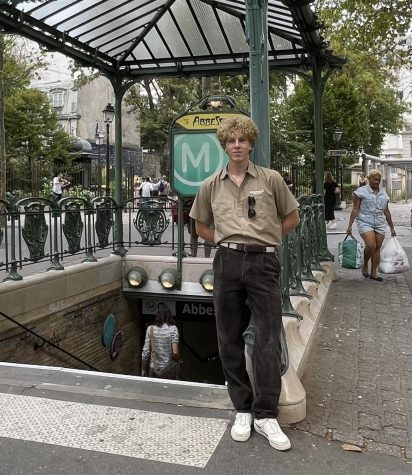 Elliot Bramson, Print Editor-in-Chief
Elliot Bramson is a senior at Community High School. This is his 3rd year on Communicator staff and first as a Print Editor-in-Chief. When he's not at school or doing homework, he enjoys watching and talking about movies, rowing, and listening to music. He spends his summers as a counselor at an overnight camp. He is excited for the year ahead!