The Voice Among the Crowd
Following a life of twists and turns, CHS graduate Mark Wiseman is serving his community while fulfilling his childhood dream of being a sports broadcaster.
"Well, maybe that's not going to be the route my life goes down," Mark Wiseman thought to himself.
It was the day he graduated from college, in 1998, when he found out the company he had planned on working for had been bought out and he had been dismissed.
"It's odd to think back to that and see where I am now," Wiseman said. "I never would have thought that in 20 years I'd find myself calling games for Pioneer."
As a kid growing up in Ann Arbor, Mark Wiseman listened. Whether it was to the sounds of his favorite punk rock bands or the voices of his favorite local sports broadcasters, Detroit Red Wings' Ken Kal and the former voice of Michigan football, the late Frank Beckmann, Wiseman always had an ear open.
Wiseman grew up on the northeast side of Ann Arbor, in an area now known as Dixboro. His mother was a school teacher and his father was an engineer.
"I remember my mother, being a teacher, would always have me doing flashcards every night," Wiseman said. "It's kind of fitting, seeing that now I'm making my own flashcards every night to help me memorize rosters for upcoming games."
It wasn't until Wiseman was an eighth-grader at Clague Middle School, when he and his class took a tour of Huron High School, that he began to consider CHS as an option for high school.
"I'm still not sure how it happened, but I got lost in the building," Wiseman said. "It was very overwhelming. I didn't think much of it at the time, but I realize it showed me that I maybe could benefit from an alternative type of school like CHS."
With the help of a friend and a little convincing from his parents, in the fall of 1989, Wiseman entered his freshman year at CHS. Throughout his years at CHS, Wiseman pursued his interest in music and radio.
"I didn't have any sort of actual musical talent," Wiseman said. "I was interested in the music industry and I wanted to try and work with recording bands or some sort of managing or producing."
It was Wiseman's senior year at CHS, in 1993, when he was applying for a Community Resource (CR) class, that he found his motivation for the career he wanted.
"I tried to put [a CR] together with WAAM, an Ann Arbor radio station," Wiseman said. "I missed the deadline due to procrastination, and I still regret that. That experience lit a fire under me as I approached and got to work at WCBN, Michigan's student radio station, where I was a DJ for about eight years."
After graduating from CHS in the spring of 1993, Wiseman headed east of Ann Arbor to Eastern Michigan University in Ypsilanti, where he earned a degree in telecommunications.
"[I had] a plan on trying to get into the music industry," Wiseman said. "I ended up with a telecommunications degree. I interned for Polygram Records for two different semesters."
It was at Polygram where Wiseman began to establish what he thought would be his future career.
"It was a really good experience," Wiseman said. "Learning how to market and build up hype for an album, things of that nature."
Suddenly, Wiseman's life took an unexpected turn. Polygram was purchased by Universal Records, half of the staff was fired on either side and Wiseman was out.
"I thought I was on my way [at Polygram]," Wiseman said. "[Following that,] I said to myself: 'Well maybe that's not going to be the route my life goes down.'"
Following his graduation, Wiseman moved away from Ann Arbor, bouncing around the country with different jobs. He spent time in Ohio, Nebraska and South Carolina, working a variety of jobs. He was a record store manager, a control engineer and eventually found his way to his way back to Ann Arbor in his current career, a training accountant for Thomson Reuters.
Wiseman always had the idea in the back of his mind that he wanted to try broadcasting in some way, but didn't know how to begin.
"I always loved sports. I thought [broadcasting] would be the coolest thing in the world," Wiseman said. "But there wasn't a lot of opportunity to start off around [Ann Arbor]. I had a theory that streaming would be something cool to try, so I kind of looked at the technology and finally, right around 2015 or so I decided that: 'you know what? I think [I] could do it.'"
With his plan gathered, Wiseman reached out to the local high schools in Ann Arbor and proposed his idea. In 2016, Wiseman got his shot. Pioneer High School
(PHS) athletic director Eve Claar reached out to Wiseman and expressed interest in his proposal. Wiseman was put in touch with the PHS men's hockey team, and in the fall of 2016, Wiseman held his first broadcast.
"It turns out I wasn't too bad," Wiseman joked. "[Broadcasting] was something I wanted to do since I was a kid but I didn't know how. It's something that people seem to appreciate as well."
Following his early success, Wiseman's broadcasting company, Arbor Broadcasting, has since expanded to covering a variety of sports, leading Wiseman to experiences he'll treasure forever.
"Our second year we started to broadcast for the Michigan women's hockey team," Wiseman said. "They get to play a few of their games at Yost [Ice Arena]. To be in the press box, that was something special."
Wiseman was soon approached
by more teams and expanded his realm of broadcasting. One sport in general Wiseman considers being a turning point in his broadcasting career.
"Growing up in Ann Arbor, obviously football is special here," Wiseman said. "The sport that has the most eyes on it, it's cool to be a part of it. The first time I [broadcasted] football [for Pioneer] was amazing. "
Wiseman recognized that in order to broadcast for football, he had to tap into a new set of broadcasting skills.
"It took a couple of years to work up to earning the trust to be able to [broadcast] football," Wiseman said. "In football, you have that moment between the snaps where the chess game is happening. I could feel that time and still try to describe the game and let people feel like they were [at the game]."
As more teams approached Wiseman about broadcasting and Arbor Broadcasting began to grow, Wiseman soon realized that he needed some help.
"At this point it's me and I've dragged about every family member that's related to me into [the company]," Wiseman said. "I've dragged my dad all over the place. He runs the second broadcast team when there are two games at once. Mywifeisabigpartoftheteamas well."
Wiseman has branched out into a variety of sports since beginning broadcasting in 2016. He and his team now call games for both the PHS men's and women's teams for hockey, lacrosse, soccer, football and field hockey.
As hectic as his schedule gets (he travels two to three times a week for games, and out-of-state for some), Wiseman always remembers his love for his work.
"The coolest part is trying to try to do my small bit [to help out]," Wiseman said. "To make sure that the grandparents and the parents who can't make it get a chance to connect. Being a part of the energy of everything, it's amazing."
Leave a Comment
About the Writer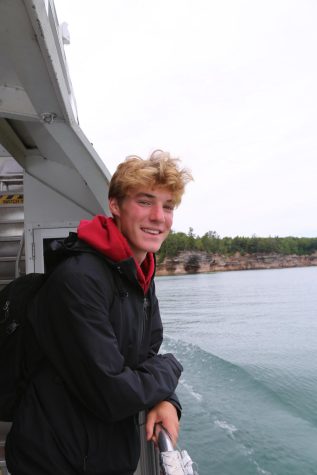 Kurt Hausman, Sports Editor
Kurt is a senior at Community and is entering his third year on staff, his first as the Sports Editor. His favorite part about journalism is writing about high school sports in the Ann Arbor community and being able to hear people's stories. When he's not writing he is playing football as a captain of the Ann Arbor Pioneer Varsity Football team, spending time outdoors with his friends, exercising, or working his part-time job at Stadium Hardware.