The smells of baked goods wafted through the third-floor hallway. Oreos dipped in chocolate, brownies and decorated cupcakes were just some of the options available, as students were excitedly lining up with cash in hand.
Each year, CHS holds a fundraiser in which each forum competes to raise the most money for Food Gatherers. Each forum works together to plan events, and raise money as a group. The Qu forum decided to plan a bake sale to sell pastries to students in the halls to be held on November 8, during lunch.
Janaki Nallamothu is a member of the Qu forum, and worked hard on helping plan the event. She enjoyed setting up the table of baked goods and seeing all the amazing pastries made by her peers. One of her favorites was the chocolate-covered Oreos, designed to look like turkeys.
"I really like the chocolate-covered Oreos because they are very intricate," Nallamothu said. "They look too good to eat."
Nallamothu spent time making chocolate crinkle cookies so she could contribute to the sale.
"I enjoyed baking the cookies," Nallamouthu said. "It was very relaxing and fun, especially knowing it is for such a good cause."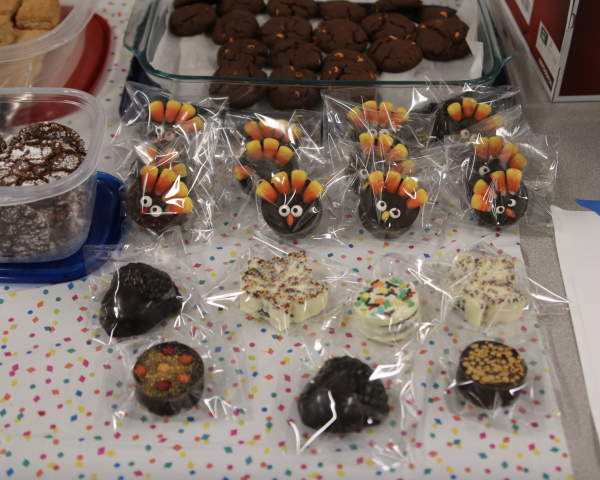 Another member of the Qu forum, Mia Rubenstein loved seeing all of her peers' creations and was surprised to see all of the talent within her forum.
"My favorite pastry was the cupcakes," Rubenstein said. "The frosting looks so good, and the bright color of the buttercream caught my attention."
The raspberry cupcakes, salted caramel macarons, and chocolate-covered Oreos were the best sellers at the sale. The chocolate-covered Oreos were dipped in dark chocolate, and garnished with sprinkles and candy corn, so they resembled turkeys. The cupcakes were vanilla with a bright pink raspberry buttercream frosting.
The annual Food Gatherers competition is a great way to raise money for those in need, give back to the community, and bring awareness to the matter. The Qu forum does a great job of this each year by holding a bake sale to raise money for the cause.