Pink Pump Store Owner Opens New "Alter Ego" Store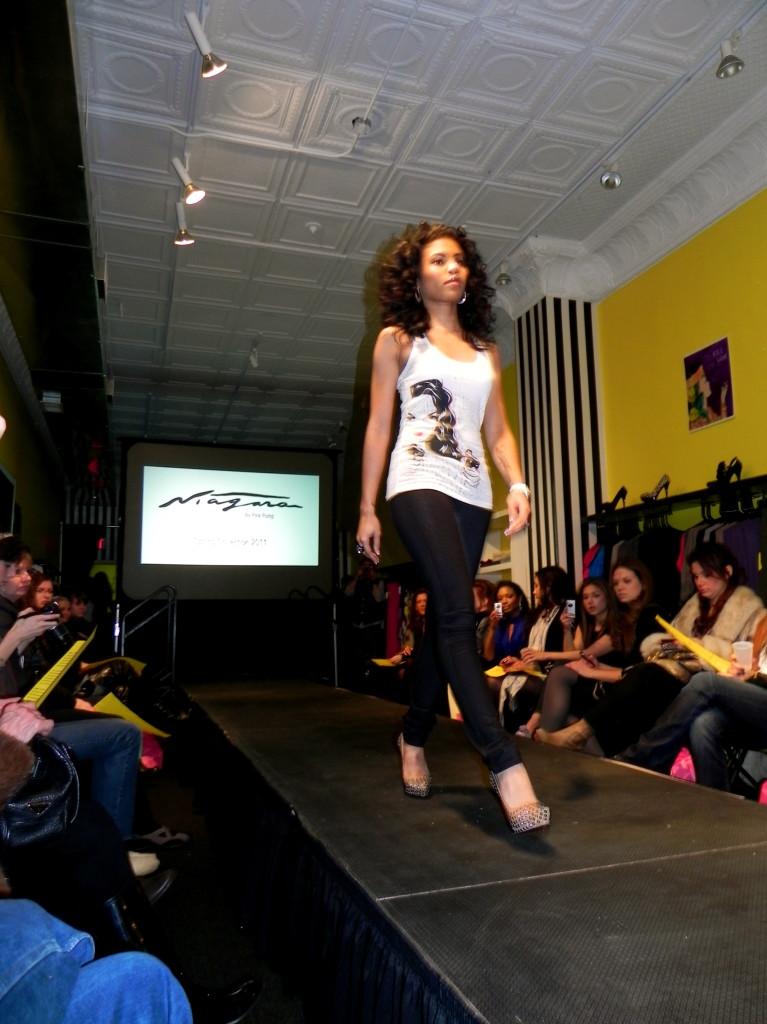 Maggie Sowder
March 10, 2011
Pink Pump is meant for the young, glamorous, fashionable woman.  How did Tawney Thieu, owner of Pink Pump make it more available to the common girl, who may not be quite as glam or fashion-forward as Pink Pump is? Easy.  By creating P2.  Thieu likes to describe P2 as Pink Pump's "alter ego".  P2 is obviously a less expensive option, but it still retains all the glam and fashion of Pink Pump, but with something else as well– basics.
The fashion show debuted Pink Pump's new 'alter ego' store, with a more basic and young vibe, P2.  The fashion show was held in the new P2 store (in downtown Royal Oak), showcased the fashion for the media and special guests. Unlike most fashion shows, the fashion show debuting P2 was separated into three "rounds", and staged as if P2 and Pink Pump were facing off, with boxing gloves decorating the store.   Each store showed five or six looks per round, with 32 looks total.
The first round of the show, called Flirt With Me was a more casual look, with upcoming spring styles prominent.  For this round, Pink Pump's 5th look was a pink button down shirt with brown bubble shorts, a fringe purse and brown fringe Minnetonka boots.  Round two was called Date Me and was a bit more formal, but still with a good balance of fun and glamour. Short, date-ready and fashionable dresses were paired with stunning shoes by many designers, including P2 ruffle and flower dresses, and Qupid pumps.  Round three, the final round was called Love Me.  Short, glam dresses were worn this round.  The styling was similar to Date me, only a bit more formal.  A chic, black pencil skirt paired with a black beaded top (both Pink Pump), and Rock and Republic platform pumps was one of Pink Pump's ensembles of this round.
The store itself, where the fashion show took place was small, but the decoration was very similar to the fashion shown in the store.  The walls were an electric yellow and there was a chandelier hanging in the entrance similar to many Pink Pump stores. P2 was almost exactly like a simpler, younger version of Pink Pump, with more modern decorations, yet with the same high-glamour atmosphere.  Shoes and bags topped every shelf around the room, almost acting as decorations themselves.  Hip shirts, dresses, and skirts hung underneath the shoe shelves, with ruffles, faces, quotes, and sparkles decorating every one of them.
Two models who walked in the show had a special story..  They are part of the Make-a-Wish Foundation.  They both had dreams of modeling in a fashion show, and the Make-a-Wish foundation helped them to be able to do that.  Thieu said in a previous interview, "Charity is very important to Pink Pump," and "it only makes sense to help provide for the ones who are less fortunate".
Everything in P2 is under $50 and although both stores are very fashionable, and at times almost overdone, P2 is a little simpler and younger.  Thieu stated, "Each location we operate has a unique customer base and we cater to each in a different way. This keeps each store from being "cookie cutter" and our customers can find something unique at every store." This individualism within P2 is the same as within Pink Pump, but it caters to a different audience. P2 opened March 8 on 306 S. Main St. in downtown Royal Oak.