Italy? There's a lot more than food!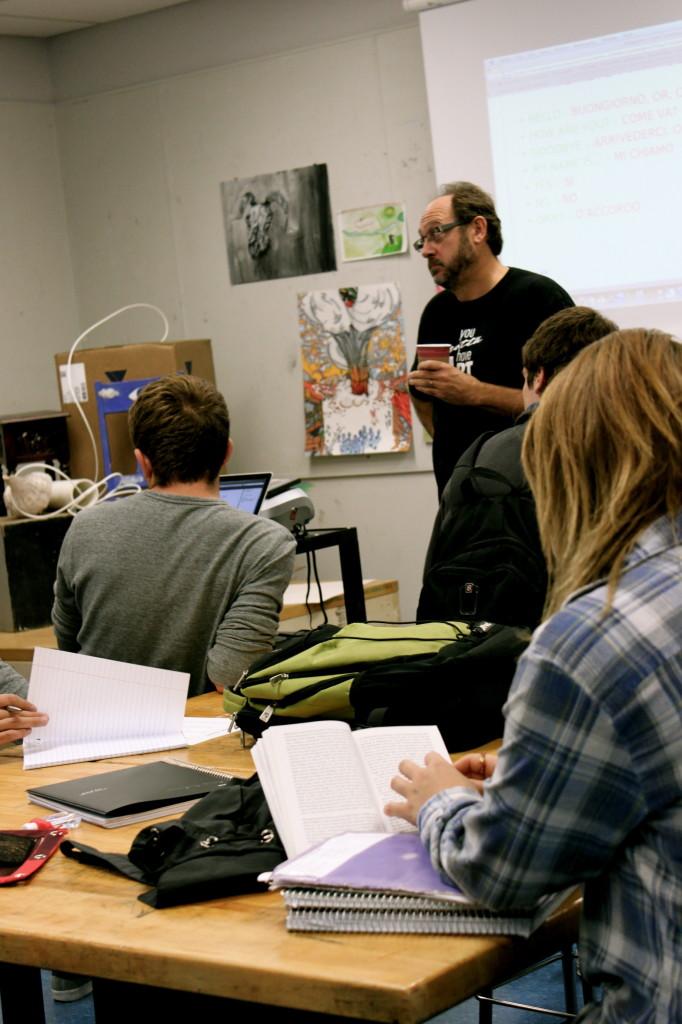 Vittoria M.
September 30, 2011
If you're wondering why students at Community walk in the hallways eating biscotti and singing "Nel blu dipinto di blu" the answer you're looking for is: the trip to Italy.
The first trip to Italy that took place in 2009 and was so successful that Steve Coron and Jason McKnight decided to propose it again this year.
The trip will take place during the Mid-Winter Break in February and will last ten days; a trip to Europe, and especially to Italy, is an unique opportunity and also unusual for an American High School, that's why I decided to talk with Coron about it.
As I walk into his room the atmosphere is familiar to me, you can smell Italy everywhere.
As I first ask him "Why Italy for a trip?" he answers that is because Italy is the best country in the world.
"Are you saying this because I`m an exchange student from Italy?!" I said with a big smile.
It is so strange hearing people celebrating Italy, as Italians rarely do, and it makes me happy.
I ask him again why they choose Italy as a destination, he now becomes serious, the music still plays in the background.
"First I have to confess that there's a selfish reason and that's because of my Italian ancestors, then I also chose Italy because it amazed me the first time I went there and I want my students to feel the same way I felt," said Coron.
He says he wants them to feel as he felt when, after walking through Via del Corso, he reached the Forum.
"I felt just amazed, you can smell antiquity and history in the air, everything you've ever studied is there and it was in that moment that I realized that sensation was Italy."
Steve went for the first time to Italy with his wife and as soon as he got there he realized how much Italy had to offer.
"I can't find the right words to say how I felt when I first understood that Italy was everything I had ever studied. In Italy," he said, "you see and taste everything you've studied on books, it's magic, something you are used to see on paper, suddenly is there, for real."
"If you teach or study History of Art, as me, or Classical Languages, as Jason, you just cannot live without going at least once to Italy," he said.
Coron has been teaching History of art classes for five years, and the one he's teaching this semester is about Italian Art and Culture.
"It started as an Independent Class but there were so many people interested in the class that it turned out being an Art Class," said Coron.
"It's important, especially for the ones that are going on the trip," said Coron, "to know something about what they're going to see from an artistic point of view but also from the point of view of culture since they will be living there for ten days."
The class follows the itinerary of the trip and gives Coron the opportunity, with McKnight's help, to teach the basics of Italian history and history of art.
The students for this class are required to complete some projects and to keep a journal to get their grades.
"It's amazing how as time passes students start to move from typical food projects, to papers about artists and history. They are feeling more and more interested in knowing a country that is completely different from the one they live in," said Coron.
The trip will be a wonderful experience as it offers the opportunity to see a country that not everyone may be able to see in the future and also helps personal growth as every journey does.
The itinerary will touch cities such as Venice, Florence, Pisa, Orvieto, Sorrento, the archaeological site of Pompeii, the Island of Capri, Naples, and finishing in Rome. If you want to join the trip you can do it until the middle of October.
There are still spots available, just talk to McKnight about it and checkout the trip details at www.educationaltravel.com (Username: Community, Password: Italy).
As I ask Coron if he already sees change in his student's minds, Steve tells me: "I'm sure they're realizing that Italy is big stuff, that there's lot more than food."
Click for the video of the Italian Ricotta & Lemon Cake- Recipe