CHS Athletes Help Raise Money For Strong Kids Campaign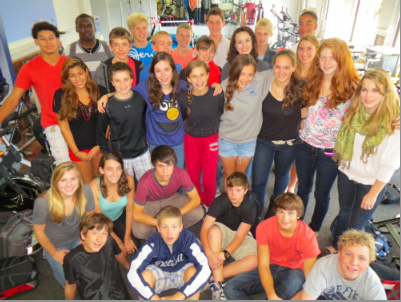 Community High School's Athletic Tribe or CHAT, as it is called by its members, is a group of Community High students who play sports and meet two Wednesdays a month to discuss the trials and tribulations of their athletic seasons and dine on pizza. But in the month of March they will be hard at work fundraising for the Ann Arbor YMCA's Strong Kids Campaign.
The Strong Kids Campaign helps the Ann Arbor YMCA to provide scholarships for kids who otherwise would be unable to participate in many of the YMCA's great programs including summer camp and after school activities. CHAT's advisor, Robbie Stapleton feels strongly about her students fundraising for Strong Kids, " It started out as just kind of a cute marriage of strong kids, ie; athletes raising money for strong kids the campaign. I just thought it was a natural connection but I also really, really believe in what Strong Kids money does."
Students who are members of CHAT are apart of high school sports teams which can help to provide them with a sense of belonging. Many kids began playing sports through the Recreation and Education department or other after school programs that kids in Ann Arbor have access too, but not all children are that lucky. Sarah Kurtz, the Ann Arbor YMCA's Camp Al-Gon-Quian director explained that Strong Kids money funds after school activities for youth in Ypsilanti. "The Y is for youth development, healthy living and social responsibility and that's not just for people who can afford it. We have a ton of programs in Ypsilanti that include after school sports programs, gymnastics, cheerleading, football, basketball all sorts of different things."
This will be CHAT's fifth year raising money that will go towards scholarships for Camp Al-Gon-Quian and Birkett, Youth In Government and the Chain of Plenty. Last year CHAT raise $1,700 but this year the plan is to raise "at least that and hopefully more" according to Stapleton.
The Strong Kids Campaign demonstrates how the YMCA is more gym. "Most people don't know the Y is way more than a fitness center it's sort of a cause, a mission, and their mission is to strengthen community," said Stapleton. The Y is a place for kids to be nurtured and grow as young people. Kurtz believes camp plays an important role in the development of kids and teens, " I think the kids who benefit the most are the ones who don't have other experiences. The might be home watching TV or looking out for a younger sibling and they have to grow up kinda fast. At camp they can really be a kid and thats special."
Helping to support the Strong Kids Campaign is easy. You can buy a windbreaker from any CHAT member or Robbie Stapleton for only $30. Look for CHAT sponsored bake sales popping up around school this month or give directly by stopping by or mailing a check to the Ann Arbor YMCA.
To learn more about the Strong Kids Campaign and the programs it supports you can visit http://www.annarborymca.org/give-ann-arbor-ymca/give.php.
About the Contributor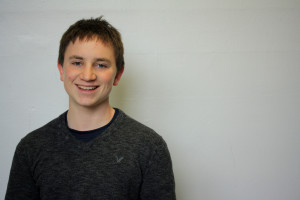 Jesse Rubin, Sports Journalist
Jesse is a junior and is beginning his second year on Communicator. He enjoys covering University of Michigan Basketball and writing Op-Eds about current issues in sports. He is a member of the Pioneer Men's Varsity Swim and Dive Team and often smells of chlorine. When he isn't in the pool or writing articles for Tracy he works at The Cherry Republic and enjoys playing pick-up basketball at the Y.