ComMusicator: Oren & Isaac
The dynamic music duo of Oren Levin and Isaac Scobey-Thal first began playing back in their freshman year. They had been playing solo shows at the B-Side venue downtown until they eventually decided to join together in musical creation. When asked why they make music, Oren responded, "We just have a lot of fun playing music together. We've never really done anything for profit… It's just one of those things that's kind of fun to do." While their music may appear to the casual observer to be…well, casual, it has recently become more serious. They just auditioned for  Youth Owned Records, a local teen record company, to produce an EP or an LP. They are also in the current CET production of "Bob: A Life In Five Acts" as musicians. When it comes to musical influences, Levin cites Theo Katzman and John Mayer as primary ones. That folk-ish, soft style of music is what they're going for, "But we're trying to make it not all soft," said Levin. Their music, as well as their attitude, seems relaxed, which for two high-school juniors is surprising. "As of now, we're just playing together, whatever comes up." Levin described their music in one sentence: "Folk Singer-songwriter with some snazzy, kind of hype pizzazz, with a lot of z's."
Look for these musicians this weekend in "Bob" as well as in the coming months at the B-Side, or even on a Youth Owned records compilation album.
Commusicator will be a running online segment in which we talk to local musicians in and around the school.  If you would like to be featured in this section, talk to Dan Metzler or Erez Dessel.
About the Contributor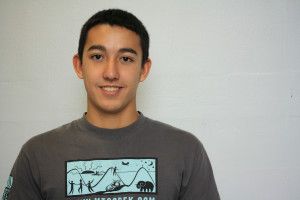 Dan Metzler, Journalist
Dan Metzler is a sophomore at Community, and a first-year staff member on the Communicator. He swims and plays water polo for Pioneer and has also played piano for almost 10 years.