Spring 2010 Collection at Gallery Project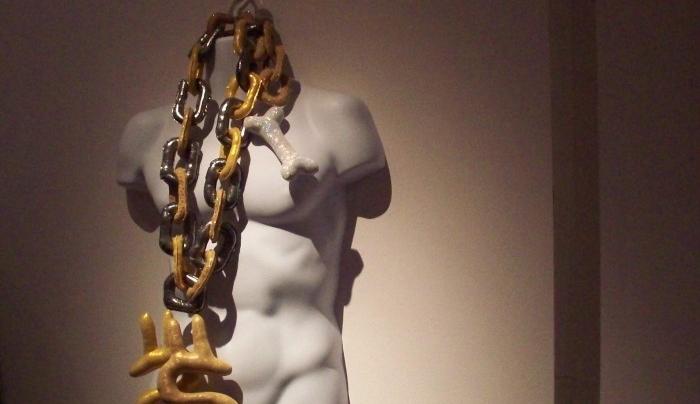 Thea Yagerlener
December 16, 2009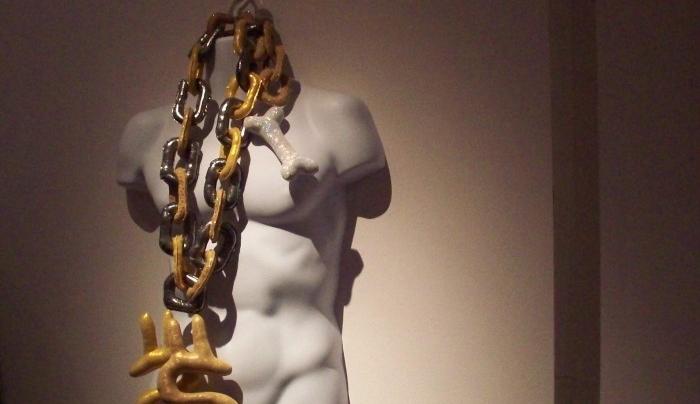 Gallery Project plays host to a bustling reception on Friday night. Over 25 artists presented works, forming the Spring 2010 Collection.
The crowd, already packed into the small room, moves even closer together (if that is possible) to allow a clearing around the runway to open up. Soon models traipse the colorful and characteristically hand-made runway, each with their own different walking styles. Some, nervous, walk modestly to the end and scuttle back; others professionally strut the end of the runway and strike a well-rehearsed pose; some even dance all the way down the runway. It is clear that everyone, the models and the audience, had fun.
The Gallery Project is hosting 27 local, regional and national designers' works. Some present an individual piece while others have a whole collection line presented. Many artists seem to be playing on reusing, recycling, and reclaiming materials. Some explore more complex issues.
Pieces originally started on mannequins and hangers; members
of the crowd close to designers donned the pieces. The mannequins, growing barer every minute, would have confused anyone not informed that this event is purely interactive. Viewers are encouraged to model garments and walk the runway themselves.
The basement houses stations of live sewing and a screen-printing workshop. The freshly screen-printed t-shirts carry inks that change only in the right circumstances, such as black lights, different lighting conditions and certain atmospheric conditions. One t-shirt shows a girl waiting at a bus stop. It is created so that the background will change throughout the day: a daylight scene appears in normal lighting conditions, monster come out in low light conditions, and lighting shows during thunderstorms.
Bethany Shorb, a designer focusing on tie-wear, featured many creations made out of latex from weather balloons bought from Army surplus stores. Shorb dyed them herself and then glued them together, forming skin-tight articles. Other designers used fabrics from thrift stores and reclaimed textiles.
The collection is unique and full of character. From couture designs to everyday garb, Gallery Project covers many preferences.