YSIV is good?
Track List:
Thank You (feat. Lucy Rose & The RattPack)

Everybody Dies

The Return

The Glorious Five

One Day (feat. Ryan Tedder)

Wu Tang Forever (feat. Ghostface Killah, Raekwon, RZA, Method Man, Inspectah Deck, Cappadonna, Jackpot Scotty Wotty, U-God, Masta Killa & GZA)

100 Miles and Running (feat. Wale & John Lindahl)

Ordinary Day (feat. Hailee Steinfeld)

YSIV

Street Dreams

The Adventures of Stoney Bob (feat. Kajo, Slaydro & Big Lenbo)

Legacy

ICONIC (feat. Jaden Smith)

Last Call
Young Sinatra IV is good. Yes, you heard it right: YSIV is actually good. Logic's last studio album, Everybody, was possibly his greatest work to date. But the Young Sinatra mixtapes have never tried to be anything close to Everybody.
The Young Sinatra mixtapes have traditionally focused closely on Logic's relaxed yet dynamic flow over a relatively simple beat. A gleaming example of this is the eponymous song YSIV. Logic uses his new school flow to deliver strong verses over an old school beat. He uses clever rhymes while still maintaining a stylish flow. Staying true to the "boom bap" rap of those before him.
Boom bap is a style of rap music that was prevalent around the 1980s and 1990s. This form of rap centered around heavy drums and loud snares making up most, if not all, of the beat.
Different from the previous Young Sinatra mixtapes, YSIV contains many more features. Half of the tracks contain verses or choruses from other artists. This could be because Logic has gained much more renown from the last Young Sinatra mixtape, or it could be Logic's evolution to today's more traditional rap. He does this by including some of today's popular artists.
From Hailee Steinfeld to Ryan Tedder, Logic utilizes other artists to add powerful choruses to his songs, which he has always seemed to struggle with. In contrast, he also uses features like the Wu-Tang Clan verses to again deliver on the hard-hitting rhymes of old-school boom bap.
Just as Logic includes those that came before him, Logic also makes a point of paying homage to those around him and those to come. He pays homage to Jaden Smith on the track ICONIC by using a beat which closely mirrors Smith's song ICON.
Whether you enjoy "boom bap Logic" or the Logic we see on Everybody, you must recognize that Logic stayed true to the Young Sinatra series. The songs in which he stays true to his intentions are a success: songs like Everybody Dies, Wu Tang Forever, YSIV, 100 Miles and Running, The Adventures of Stoney Bob, and ICONIC. But songs where Logic strays away from boom bap are a flop, songs like One Day and Ordinary Day. Every track on the album runs for more than 5 minutes. For most artists this would be a stretch, but Logic is able to keep the entire run time fun and new.
Overall, Logic delivers a solid close to the Young Sinatra mixtape series. Although it is not the Logic most listeners have grown to love, it is the same Logic that many fell in love with at the beginning of the Young Sinatra series. Logic returns to his roots to pay respects to where he has come from and show us where he looks to go in the future.
Leave a Comment
About the Contributor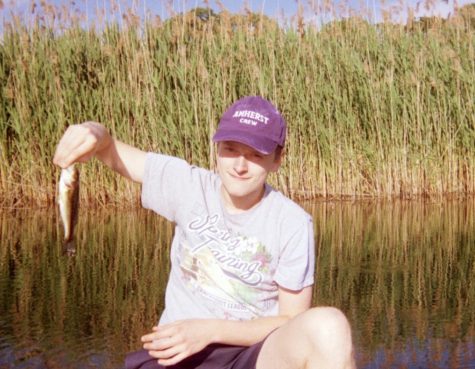 Brenan Dionne, A&E Editor
Brenan Dionne is the A&E editor for the Communicator. This will be his second year working on the Communicator. His passion is finger-knitting. When he's not working on the publication, you're most likely to find him debating with his friends over sports or music.