Á la mode: Grace Wang
Grace Wang, a sophomore at Community High School, has every opinion on fashion you could ask for. She believes that shoes with detailed designs and abstract faces in clothing should be more popular than they are, and that low-rise jeans and berets should never be in fashion again. For her, the most important piece in an outfit is a necklace and she feels that they should be part of everyone's outfits.
Wang's love for necklaces is the focal point of her outfit. Her necklace is from her au pair — a nanny from a foreign country — and was given to her as a gift when she was younger. 
"I was really close with her because she was my au pair when I was a little older. I like wearing it to remind me of her," Wang said. The necklace, while it may look like two, is connected with one clasp. The two chains have individual charms, each with small jewels on them. They represent two children, but they are each unique.
Wang shared some of her favorite trends with us. She's excited that snakeskin is making a comeback, as well as clear items like bags, bracelets and occasionally shirts. 
"Just not stuff that makes it look like you're dressing in a bag," Wang said. Her clear bracelet is a piece of that trend that she carries with her. She borrowed it from a friend and has been wearing it regularly. 
When asked where her inspiration comes from, she cited several people: Kendall Jenner, and Instagram influencers like @best.dressed, @enjajaja and @oanhdaqueen. She explained that in addition to influencers, inspiration also comes from what's already in her closet. 
"Mostly I'm inspired by what's around me and what I have to work with. I don't go out looking for specific things, I just like what sticks out to me," Wang said. She formulates outfits from the clothes and accessories that she owns and borrows what she likes from her friends.
Community is an open, accepting environment, which leaves an abundance of room for creativity. She understands how to wear different pieces that can be considered "out there," and she has learned from watching others dress. Thanks to how accepting Community is, Wang tries new clothes and accessories more often. Her confidence has risen, and she does not let
others' opinions on her clothes affect her. Wang's style appears to change every day, but her dynamic style is an extension of who she is.
View Comments(1)
About the Writers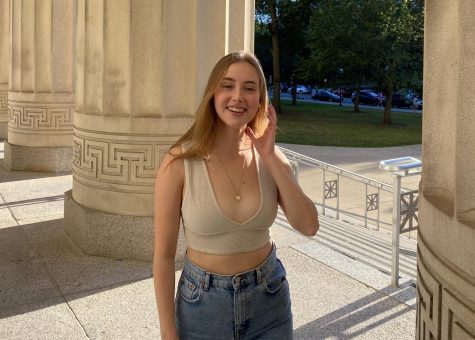 Cate Weiser, Social Media Editor-in-Chief
After four semesters on staff, two in-person and two virtual, senior Cate Weiser is ecstatic to return to room 300. This is her second year on the Social Media Editor-in-Chief team. When she isn't battling with The Communicator Instagram's scheduling platform, she is obsessing over her two dogs, playing tennis, or photographing everything around her. She uses a Canon EOS 7D Mark II, and a Pentax K1000 with 400-grain Kodak film. Cate loves watching red carpets, listening to Minecraft music, and making lists of threes.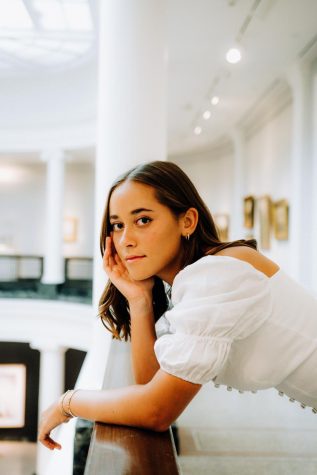 Mia Goldstein, Print Editor-in-Chief
Mia is a senior at Community High and this will be her second year as a Print EIC. Most of her time is spent on InDesign, fooling around with page design or making funky vector art on Illustrator. When she's not in the journalism room, you will either find her on the tennis court 80% of the time or with her black lab, Abby, the other 20% of the time. She's always up for a challenge. Bring it on senior year :)