Rainy Day Fashion
Leila Bank didn't realize until recently that she has always had an eye for fashion. She remembers watching videos and picking out different clothing pieces and accessories that she would like to have in her own closet.
"I never really realized I liked fashion," Bank said. "I didn't notice that until I started seeing little videos and I was like wow that person's outfit is so cool."
While taking inspiration from different sources, Bank is finding her own way of self-expression through the clothing items in her closet.
"I wear whatever makes me happy," Bank said. "I try to not let other people's opinions influence the clothes I wear. I feel my best when I'm wearing clothing that makes me happy."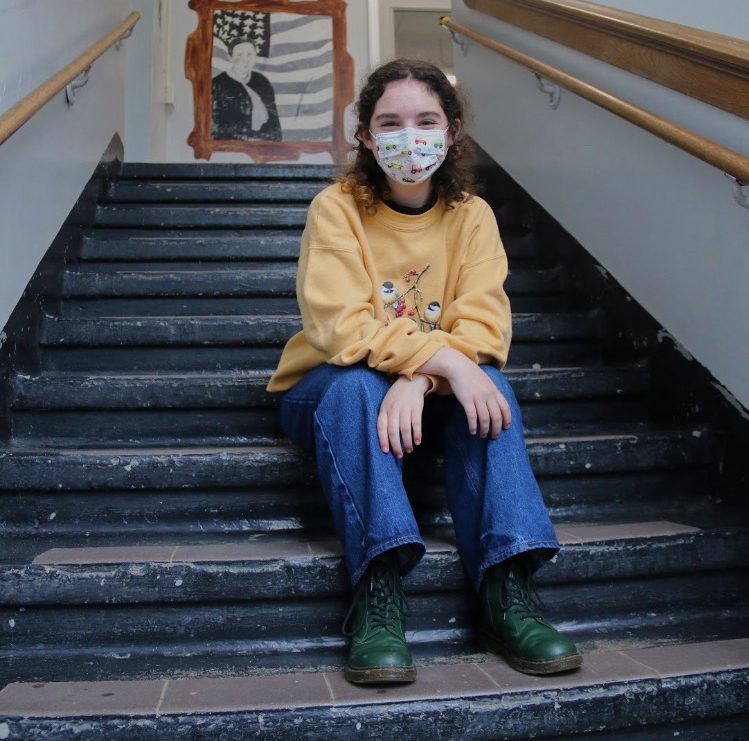 There are lots of different elements that go into picking out an outfit and weather is one of them. On a rainy day, Bank went for more vibrant clothing options to contrast with the gloomy, rainy day.
Bank's rainy day outfit includes dark blue, high-waisted Old Navy jeans, which she bought online. She pairs her jeans with a yellow sweater from Ragstock that is decorated with little birds and berries. For shoes, Bank wears her green Doc Martens that she bought from Zappos. Banks' favorite and final touch to her rainy day outfit is a sparkly silver belt, stolen from her sister's closet.
"I think the outfit all together is just really vibrant and stands out against the gloomy weather," Bank said. "I didn't really realize until I went outside and saw how grey it was."
Bank uses the rainy weather as an excuse to wear chunkier and cozier clothes, which is what made her pick out her yellow sweater and chunky Doc Martens. She knew that with the soggy weather, her usual sneakers would get completely soaked, but her Doc Martens would be able to stand the rain.
With Bank's newfound love for fashion, she is ready to discover and grow her style. She mainly gets her inspiration from social media and other students' outfits in school.
"I think that the next way I can grow my style is by expanding on whatever is going on around me," Bank said. "I don't know if I'll ever want to pursue fashion as a career, but I do think it's a good option to have."
Leave a Comment
About the Contributors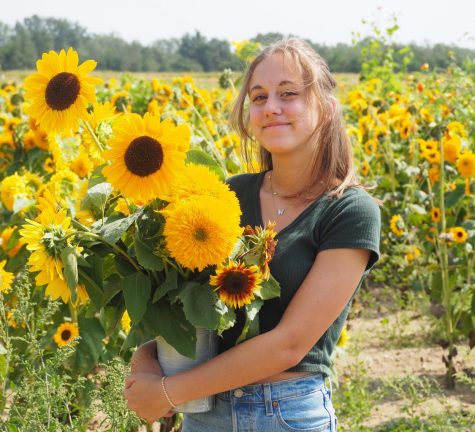 Abbi Bachman, Journalist
Abbi Bachman is a sophomore and is excited to be able to do her second year on staff in person. She enjoys listening to music and her records. In her free time, she also reads, watches tv, and sees friends. She likes to learn about fashion and photography. She is excited to see what this year will bring!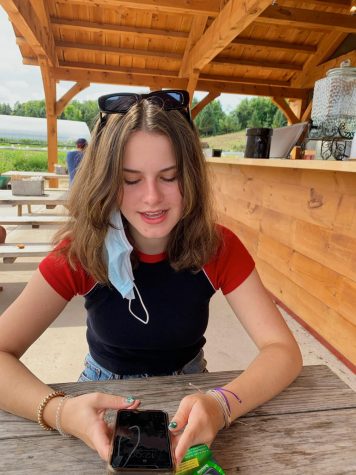 Addi Hinesman, Journalist
Addi is a sophomore at Community High School. This is her second year being a part of the Communicator staff. She is very excited to be in person and for the upcoming school year. When she isn't doing schoolwork, she's usually in the studio dancing, hanging out with friends, or playing with her pug Reeses. Whenever she can, Addi likes to spend time with her siblings, which she is now very close with thanks to the pandemic.