Pioneer Soccer Finishes Season
On Tuesday, Oct. 26, the Ann Arbor Pioneer Boys Varsity Soccer team had a heartbreaking end to their season in the regional semifinals with a two to one loss against Salem High School, ending Pioneer's hopes for a state title.
Despite the loss, the Pioneers had a season to remember; finishing the regular season with a record of 16 wins, one loss and two draws, The Pioneers went into district playoff competition as the top seed. Their first game of the playoffs was against in-city rival Ann Arbor Huron High School.
"It was definitely an interesting feeling," said Calvin Paulick, Community High School senior, and starting midfielder for Pioneer. "We had already beaten [Huron] twice this year, so it felt like a game to just put away and move on to the finals."
Stifling defense by both teams was the theme of the game. The match was scoreless through halftime and it wasn't until the 19 minute mark of the second half when Pioneer junior Tyler Wilkins struck the first goal of the game. A spree of scoring ensued; ending with a score of three to one in favor of the Pioneers.
"It was good to see the younger guys step up," Paulick said. "A good part about our team is how well we play together. We have talent and depth across the whole starting 11 and into the bench.
The District final match came just two days later against another city rival: Ann Arbor Skyline High School. The game held a similar tone as the one just two nights earlier: a low scoring affair with suffocating defense by both sides.
"We tied [Ann Arbor Skyline] both times in the regular season," Paulick said. "I was confident we were going to win, because that's what I had been telling myself all week. In the playoffs, [the games] mean more. You don't want it to be your last game ever, and we came through."
The Pioneers were able to outlast the Skyline Eagles and plan to be back even better next season.
"We've built a very good team environment," Paulick said. "We have a solid young core and we all have good chemistry. We play as a team, we celebrate as a team and we win as a team."
Leave a Comment
About the Writer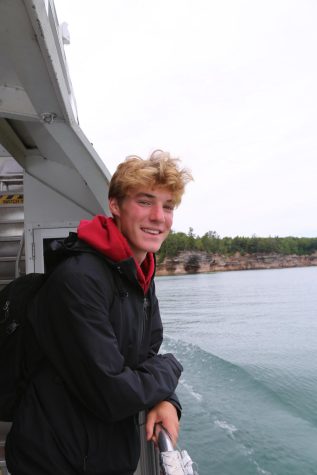 Kurt Hausman, Sports Editor
Kurt is a senior at Community and is entering his third year on staff, his first as the Sports Editor. His favorite part about journalism is writing about high school sports in the Ann Arbor community and being able to hear people's stories. When he's not writing he is playing football as a captain of the Ann Arbor Pioneer Varsity Football team, spending time outdoors with his friends, exercising, or working his part-time job at Stadium Hardware.