James Blake "Friends That Break Your Heart" Review
After his first album release in 2017's "Assume Form," James Blake returns with his signature sound of vocal manipulation and minimal, yet carefully textured, soundscapes. It only feels like he's improving from what he presented with the last album. Much of the cuts also feel darker and more atmospheric than its predecessor. While moments in the album might be slower or feel less dramatic than others, it doesn't spoil the experience and fits well in the overall pacing.
"Coming Back" with SZA feels as if Blake is drowning in its production. Everything comes together from the deep, underwater bass, bottomless choir and synth chords, drenched in its own reverb and rhythmic and mellow bell hits which sound like something from a new age song. Everything builds up quietly and carefully, but its simplicity is what ends up bringing the project to the heights it reaches.
"Frozen," a track with arguably the most original and jarring production, loops a pitched-down, manipulated vocal sample, as Blake's vocals and melody are stretched out and distorted in a subtle, yet textured manner. The mood that's presented at the beginning of the track is just the base for everything that follows, with a JID and SwaVay verse full of clever wordplay with lines such as "Hypothermia, my hyperbole/ Feel like Serbia, I shot Hercules/ I'm a murderer, dirty-thirty/ I can make it dirtier/ Urgent surgery or hershey hearse."
The ending string hits of "I'm So Blessed You're Mine" create chaos as it pans left to right, almost sounding like something Gorillaz would accomplish during their "Plastic Beach" era. Its blustering orchestral finish goes to show not only his expertise and experience with arranging his music, but the consideration and the efforts put into the sound design and making the experience of this album live up to its own hype.
If there are any downsides to this record, it's that it can take patience to get to its best parts, or fully appreciate it. It's almost reminiscent of a TV show that starts off slow, only for you to realize it was merely laying down the basis for the magnum opus to come. With every listen, you'll find more details to value and more layers left unexplored by the listener. "Friends That Break Your Heart" is easily one of James Blake's best albums to date, showing that the magic that flourished throughout his self-titled debut never left.
Consensus: He's blessed us.
Score: 8/10
Leave a Comment
About the Writer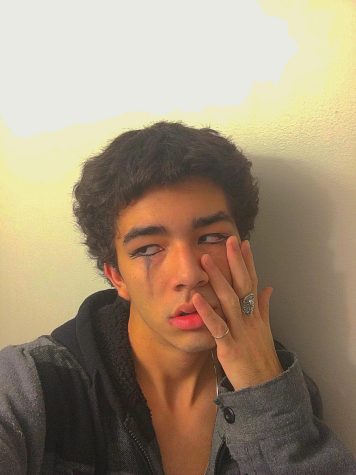 Evan Ochoa, A&E Editor
Evan "Gummy" Ochoa is a junior who's in their 4th semester of staff (A&E Editor). Gummy finds passion in dissecting pieces of art, specifically music. In their spare time, Gummy is an artist themself, producing, writing, and composing their own music under the moniker GVMMY, as well as plays in a jazz band as a drummer. Other hobbies include refereeing on weekends for little league soccer, playing Smash Bros. as Jigglypuff with friends, and recording music with other local artists.