African American Studies Class Goes on Bus Tour Field Trip
On Wednesday, April 6, Community High School (CHS) class African American Studies, taught by Joslyn Hunscher-Young, and students from the Black Student Union (BSU) gathered on a charter bus to embark on a tour of historical buildings and sites regarding Underground Railroad history in Ann Arbor and Ypsilanti.
Despite the rain, the tour continued led by Deborah Meadows. Meadows conducts tours like this as part of her work for the African American Cultural and Historical Museum of Washtenaw County.
The tour began on the narrow streets of downtown Ann Arbor in the Black Business district on Ann Street between Main and Fifth Avenue and then made its way to Pontiac Trail and Ypsilanti. Students got off the bus at two historical houses and were invited to learn more about the history from the houses' owners and renovators.
On Pontiac Trail, students heard from the owner of the former house of Reverend Guy Beckley, an important conductor of the Underground Railroad. Students also visited the Starkweather Homestead in Ypsilanti. Starkweather was known as a safe house for people on the Underground Railroad on their journey to Canada. Ron Rupert, who restored Starkweather, spoke to the tour about his work and some of the artifacts found during the restoration.
Ailish Kilbride, a CHS sophomore, attended the tour and appreciated all the effort that everyone involved put in to make it engaging.
"I think it's amazing that the people whose homes we went to knew so much about the people that came through there and what their house represents," Kilbride said
Uncovering local history has been a big part of the African American Studies class. This tour gave students a chance to get out and see that history for themselves and hear from educated individuals about Washtenaw County's role in the Underground Railroad.
"I think that all history classes in the community should go on that field trip because I think it's really impactful to learn about stuff that happens right where we are every day," Kilbride said.
Leave a Comment
About the Writer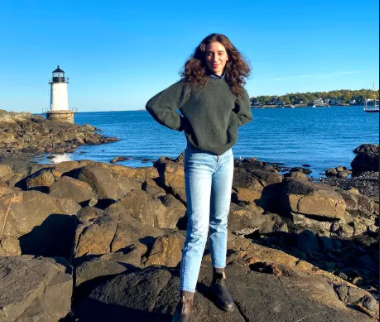 Ivy Prochaska, Journalist
Ivy Prochaska is a junior at Community High School, and this is her first semester on staff as a journalist. When she's not in school Ivy loves to get food with friends, experiment with art and discover new music. She enjoys being outdoors and exploring Ann Arbor and is looking forward to trying journalism for the first time.