What To Listen For in 2011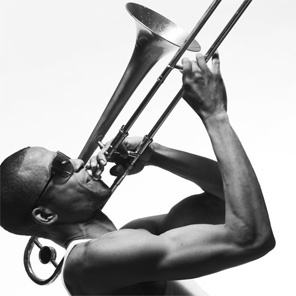 Leif Gearhart-Hall & Paul Smith
January 25, 2011
As a decade ends new sounds musical fusions emerge. Raw up and coming creative talent and vintage musicians who have found their second wind will continue to collaborate in the invention of sounds never heard before. 2011 and beyond will be filled with more and more ingenious exploration through what defines musical genres. Players are becoming more virtuosic with their performances which is creating intimate relationships between musicians and their fans.
These musicians, some old some new, encapsulate the upcoming sounds of 2011. Fresh inventive music with specific attention to their audiences and the emotions felt while listening.
Trombone Shorty: Troy "Trombone Shorty" Andrews is born and bred in New Orleans. Sometimes called the "Satchmo of the Ghetto" Andrews grew up living and breathing music. His band, called Orleans Avenue, belongs to the genre self described as "SuperFunkRock". Andrews plays trumpet, trombone, and sings in the band and writes and arranges many of their songs. Improvisation is the key to Andrews success as a musician, he has played with U2, Lenny Kravitz, and Eric Clapton and makes the trombone sound as though it was made for rock. Andrews proves that genres and classifications don't matter as long as the music makes the audience get up and dance.
Hahn-Bin: Hahn-Bin is the future of classical music performance. Through a belief that a classical performance should be more an event and less a lullaby, he delivers pop-performances combined with violin virtuosity. A student of the acclaimed Itzhak Perlman, Hahn-Bin is dramatic, enthusiastic, and excellent. Deeply entwined in the arts, he seeks to make classical music the future, and to not only push boundaries with the music he creates but encourage others to explore new musical paths and ideas through his revolutionary classical performance method. There is no doubt that as time goes on, Hahn-Bin shall become more and more influential, and the changes he is just attempting to make upon the very ideas of classical performances have the ability to deeply affect and radically alter the course of modern performance.
Speed Caravan: This Paris-based electronic-rock-psychedelic-hip-hop-fusion group combines the sounds of traditional Arabic music with a multitude of genres. Using the classical oud, the prominent lute in traditional Arabic music, this instrument and entire style is radically transformed into an eclectic musical fusion. With Speed Caravans release of "Kalashnik Love" in September 2009, this intense musical group has hit the international scene and is bringing incredible traditional-inspired music to the world.
Dam-Funk: Dam-Funk is on the rise. A combination of funk, djing skills and thick synth sound make him a voice to listen for. His debut album "Toeachizown" came out in 2009, and in 2010 he released Adolescent Funk, a compilation of his earlyworks. His new boogie sound is heavy with synth and galactic electronic sounds, reminiscing of an 80's vibe with a little modernity thrown in the mix. Dam-Funk (pronounced "Dame" as in "Damon") is surely the new choice for smooth boogie and funk listenings.
Chick Corea: Corea has been around for a long time. He has played on over a hundred albums from styles ranging from acoustic solo piano to jazz-fusion-rock. Coming up in 2011 Corea will be going on a world tour and releasing a new album "Forever". He has evolved throughout his long career and is still at the height of his creative prowess. While some players lose creative juices as they play through more and more of their ideas it is exactly the opposite for Corea. Every time he completes one idea it seems almost as though two more pop into his head. This endless creativity compounded with his ability to seamlessly play the keyboard like he has 34 fingers is why Corea is one artist that you will not be able to stop listening.
Check out the bands websites:

http://www.tromboneshorty.com/
http://www.myspace.com/damfunk