False alarm distresses University of Michigan's central campus
At 2:04pm, the University of Michigan Department of Safety and Security's (DPSS) Twitter posted this tweet:
UM EAlert Ann Arbor: Active shooter in Mason Hall . Run, hide, fight. https://t.co/w9rEgQfZYw.

— U-M DPSS (@umichdpss) March 16, 2019
Mason Hall, on State Street, was immediately locked down. Photos of people trapped in the building started to surface online, with furniture pushed up against doors to prevent a potential break-in.
A photo sent to The Daily from a student in a university library: pic.twitter.com/oTgnPdvouw

— The Michigan Daily (@michigandaily) March 16, 2019
The alarm had been called due to ten 911 calls reporting loud popping sounds that resembled gunshots nearby Mason Hall, followed by a group of University of Michigan students running and screaming away from the sound's area of origin.
Nearby, a vigil was being held for the victims of the New Zealand mosque shootings. Upon hearing the sound of gunshots, the crowd fled the scene, seeing a possible connection between the sound and the memorial of those killed by gunfire.
By 7:50pm, DPSS, aided by police officers from across the county and even the FBI,  had cleared the campus of students and faculty.
Police reported that there were no active shooters in the area; the sound of gunshots was related to a group of University of Michigan students popping balloons nearby Mason Hall. A group of civilians supposedly mistook it for the sound of gunfire and screamed, fleeing the scene.
The initial alert received criticism for using Twitter as a means to notify people of an active shooter, as opposed to a text alert sent directly to students and faculty member's phones.
(
A little late!!!!! And why didn't you push a notification via your App????? Had to go on to see alert. Not happy with your response.

— Suzie Canes (@1MiamiHurricane) March 16, 2019
)DPSS released a statement a day after the event, thanking those involved for their cooperation and offering counseling for those in need of support.
Leave a Comment
About the Contributor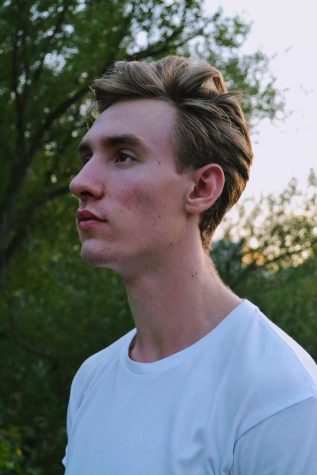 Sacha Verlon, Opinion Editor
Sacha Verlon is in his third year on staff for the Communicator. He has an attention span of one minute and is Literati Coffee's biggest fan. Verlon enjoys playing guitar and using his musical skills as a means to procrastinate doing his homework. He loathes the cold and hopes to go to college somewhere warmer, possibly in California. You can find him zipping around Ann Arbor on his red Vespa.