AAPS Hosts Covid Info Session
On Jan. 5, the Ann Arbor Public Schools (AAPS) held a "Community Information Session" and released updates regarding Covid-19's impact on the school district. Just four minutes into the webinar, there were over 20 questions submitted for staff to answer.
On Dec. 31, it was announced that AAPS would be learning virtually from Wednesday to Friday of the next week. School was also canceled completely for Monday and Tuesday mainly due to a lack of readiness and need for adjustment time. Devices were being reissued, and there were many staffing challenges. The AAPS has reached the allotted six days to cancel school; although the state allows an application for three additional days, having the virtual option should eliminate any need for extra time off. As of Jan. 5, the district had in-person learning for 71 out of 75 school days.
Superintendent Jeanice Swift explained the cases among staff are increasing more than ever before. Nurses are working to confirm with each staff member the exact number of days of isolation required and determine their earliest returning dates. Administrators hope to avoid constant shifts on and offline. Looking at case numbers helps predict when it will be safe to return to school.
"We understand from our experience over this previous week, and from public health experts, that the significant uptick in the number of coven cases is represented in the surge we've seen these previous days," Swift said. "This is unlike anything we've seen previously during the pandemic. We understand that this is likely to extend a few weeks through January."
The break to learn virtually was designed to mitigate Covid transmission. The first virtual day of the school year had over 90% student attendance district-wide.
Despite this district-wide shift, administrators are hoping to begin targeting smaller areas when canceling schools; this could be based on school, grade level or individual classrooms. This approach is planned for after the winter break incline. However, this is not eliminating the chance of a district shut down. For a district to shut down, operations would need to be threatened by the inability to staff in most locations.
There are over 3,000 team members working to help successfully operate each school day: teaching 1,200 classrooms, preparing and serving over 15,000 meals each day and providing transportation over 8,500 miles to and from school. Each area is impacted by the increase of Covid cases in this district.
"We're grateful that many on our team have worked extra duty hours on their planning time," Swift said. "They've come in early and they've stayed late in order to help bridge these gaps during the school day."
Although in-person learning is important for AAPS administrators, health and safety are the top priorities. In case of immediate in-person learning shutdowns, virtual learning is available for the remainder of the 2021-22 school year.
Administrators will not open a school unless it can be done safely. Unlike last year when they considered state and county data, administrators are only looking at the AAPS district's data to decide on shutdowns.
"The encouraging news is that vaccination and boosters are our best protection from serious illness and hospitalization," Swift said.
---
The decision of vaccine requirements is not up to the school district, but up to the Michigan Department of Health and Human Services.
With Covid booster shots becoming more available, the vaccination among AAPS will continue to grow. As of now, 96% of the AAPS staff is vaccinated. Unvaccinated staff members are required to test weekly.
On Jan. 4, AAPS was able to provide over 120 students and staff with vaccines and booster shots. They have made another request to hold additional vaccination clinics to include boosters for 12-15-year-olds.
"We want to get the boosters rolling out just as quickly as possible," Swift said. "We'll do everything that we can do in that effort."
The Washtenaw County Health Department is hosting a rapid testing event on Jan. 6 for staff. Every one of the 1,000 available tests was registered for. Based on the outcome of testing, there will be an update on Jan. 7 regarding the transition back to in-person learning for the upcoming week.
Zoom safety has also been prioritized among staff. Teachers follow a prescribed checklist every time they set up a Zoom call to ensure the cyber-security of the classroom. If students are not authenticated, they will not be allowed to join the classroom.
Short-term enrollment in A2 Virtual (an asynchronous option created in 2000) is not recommended by the district or the Michigan Department of Education. The curriculums are different and the instruction does not align. The A2 Virtual courses aren't designed to be taken for completion over a short period of time and there aren't many spaces left in the elementary virtual classroom. For parents thinking about this transition, it is recommended to reach out to Principal, Robin Kocher.
Parents always have the decision to keep students logged off of Zoom, however, the absence needs to be approved just like in-person. Students' grades are not directly impacted by their attendance.
At the elementary level, students are being supported through frequent communication and outreach to families to ensure access to learning and available resources.
High schools are providing technical support. Along with that, Community High School, Huron High School and Pioneer High School will soon be taking final exams; the AAPS staff is communicating with students about the expectations of completing the first semester and preparing them for the Jan. 18 exam week. Information will be announced if changes are necessary.
Each school always provides freshly stocked surgical masks that can be layered with cloth masks. In addition, administrators have ordered additional KN-95 masks that will be delivered before Monday.
But the overall goal is to get the district fully in person.
"We are vigorously taking steps every day to ensure as much testing as we possibly can provide," Swift said.
Leave a Comment
About the Writer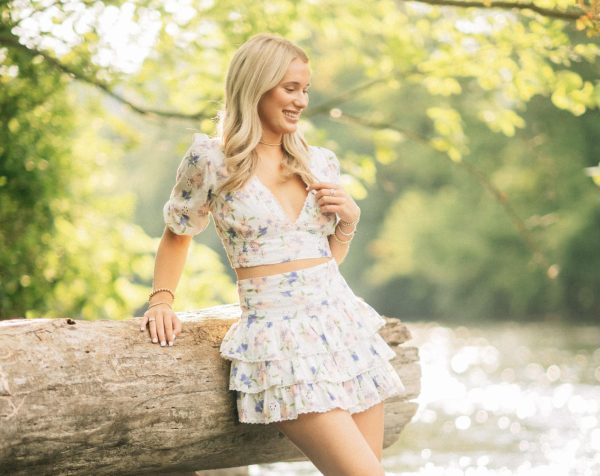 Reagan Masek, Midnight Sun Editor-in-Chief
Reagan Masek is a senior entering her fourth year on The Communicator staff and her third year as an EIC of the Midnight Sun. Outside the walls of Community High, you can find her out with her camera or playing lacrosse. She loves to go on drives and walks and you can always find her listening to music. She loves writing, photography and In-Design. She is super excited for another semester on staff and can't wait to see what her final year at Community High holds!