Alita Cunningham: CR at Manzanitas
A couple of times a week after school, Alita Cunningham, a junior at CHS, heads over to Manzanitas Spanish Immersion Playschool for an exciting new Community Resource (CR) class she's taking this semester.
Manzanitas is a preschool that provides a completely Spanish-speaking environment for kids. Cunningham volunteers there for two to three hours a week. Most of the time she communicates using only Spanish. She helps oversee preschool activities, reads stories to the kids and has a good time hanging out with them.
This unique opportunity provides a chance to elevate her Spanish with experiences unavailable in a traditional classroom.
"The whole point is to kind of immerse myself with an hour of conversational Spanish, so I can understand it better, and have a better idea of how Spanish can actually work in real life settings," Cunningham said.
Cunningham would be in Spanish 4 this school year, but has chosen to take this CR as her Spanish credit instead.
It is a big challenge to communicate fully in Spanish to kids and teachers who are, for the most part, more experienced with the language than Cunningham. Aside from the in-person aspect of this CR, she also sets aside a couple hours a week at home to keep improving her skills and understanding. Watching Spanish soap operas, listening to podcasts in Spanish and going over the vocabulary sheet that is given to her at the end of each week are all ways she's building on her skills.
"It's definitely going to be hard for me to communicate just in Spanish," Cunningham said. "I'm pretty good at listening, but I'm not all that good at speaking yet."
Cunningham remembers that when she was little, there were qualities certain adults had that she looked up to, so she uses her personal experiences with adults to guide how she interacts with the kids.
"I think that I'll get better working with kids, especially working with them in a more structured environment," Cunningham said.
Cunningham's goal for this CR is to strengthen her Spanish skills and make it a more reliable asset. Being able to experience and use the language in real-life settings while also having the opportunity to work closely with kids is something that she is looking forward to.
Leave a Comment
About the Writer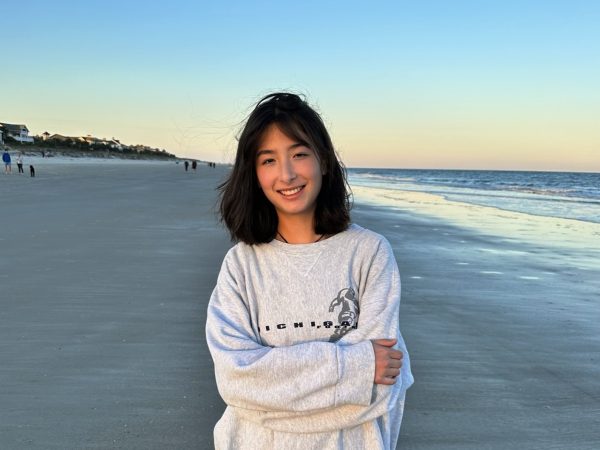 Bridgette Kelly, Feature Editor
Bridgette Kelly is a senior continuing her second year on staff. She enjoys playing tennis, eating good food and taking walks.