Finding the Future Alone
Audrey Weiss applies tactics she learned in nature to survive her final year of high school.
Waking up in a forest with no one around for miles is the last place Audrey Weiss, CHS senior, expected to find herself. Weiss spent last summer in Outward Bound, a month-long camping program where she went canoeing in the Boundary Waters of Minnesota and Canada and went on several survival tasks.
One of Weiss' survival tasks was Solo: a three-day expedition in the wilderness where participants are alone. During this, everything fell into place for Weiss, making the reality of her impending future less monstrous.
"If I can survive alone in the woods for three days, I feel like I can work an eight-hour shift and then pay my bills and go to college," Weiss said.
The main goal of Solo is to put teens in a position to grow and improve as a person, readying them for the challenges of everyday life. This significant experience has helped Weiss navigate and contextualize her senior year.
"When I came back to school and it's like, 'Oh my God, this test is so scary,' it's like, 'I can do that," Weiss said. I've carried a canoe on my shoulders for a mile, I can take a math test.'"
The future of being an adult is just a couple of months ahead in Weiss's timeline; despite the formidable milestone for many, Weiss is quite excited.
"I have been waiting to be an adult since I was 12," Weiss said.
She is eager to do all the impulsive things she wanted to do as a teen and has already forgiven her future self for mistakes that she will make along the way.
"I know I'm gonna make a lot of really stupid mistakes…really terrible decisions that are bad for me," Weiss said. "But it's also a learning curve, so making those mistakes helps you not make them in the future."
Though Weiss feels prepared for the future, she is not void of apprehension. The scariest part for her is being self reliant. The freedom of being an adult also comes with the trials and tribulations of growing up.
"It's daunting knowing that if I don't do a lot of things I could end up homeless or moving back in with my parents," Weiss said.
The questions of 'What if I do bad in school?' or 'What if I don't like the path I've chosen?' pop into Weiss' head from time to time. Weiss offers herself a peaceful reminder that those things don't define her and there is always a chance for her to grow and change.
"I'm not really scared that my plan isn't going to work because there's always something that's going to work out," Weiss said.
Weiss struggled for a long time to figure out what she wanted to do with her future. Her intended majors switched almost daily, but, in her junior year when taking Advanced Public Health and Policy, she realized her passion for her future. Weiss hopes to attend Eastern Michigan University where she wants to major in public health. She hopes to give back to her community and be a strong force in the reformations of public policies stances.
As the end of high school approaches, Weiss looks back on the time she took to journal on her trip. In the woods she wrote down her hopes, goals and dreams for the future but more specifically her hopes for her last year of high school.
"[Senior year is] the last step before you are pushed into adulthood at the end of high school. So, I think ending it on a good note where I feel successful and I feel accomplished is going to help me," Weiss said.
Having fun and living life are the only things that Weiss requires to be fulfilled in her future.
Leave a Comment
About the Writer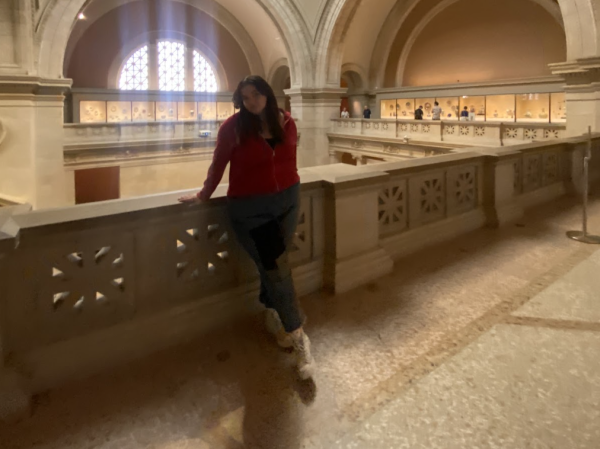 Isabella Maldonado, Opinion Editor
Isabella is going into her junior year and her 4th semester in journalism. This year she is an opinion editor for The Communicator. She loves the law side of journalism and that is what really inspires her. Outside of room 301 she loves baking banana bread and hanging out with her friends. She is so excited for this year in journalism!